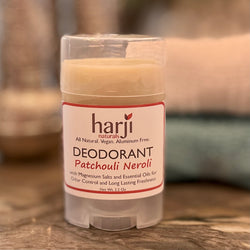 Harji Naturals
Deodorant - Patchouli Neroli (2.2Oz)
This natural, vegan deodorant is fragranced with Patchouli and Neroli essential oils creating a mesmerizing scent. 
All our deodorants are made of natural, plant based ingredients. They are free of Aluminum, Parabens, Phthalates, Triclosan, Sulphates, Propylene Glycol, TEA, DEA, and Artificial Colors. Our deodorants are not anti-perspirants but they will keep you odor-free and smelling fresh. All our deodorants are baking soda free as some people are sensitive to baking soda. They are fragranced with essential oils and use natural magnesium salts to prevent odor. Magnesium is a much needed mineral for our bodies. Arrowroot powder is used to absorb moisture and keep one feeling dry. Our testers have reported feeling fresh all day with Harji Naturals deodorants.  
Ingredients: Shea Butter, Organic Apricot Kernel Oil, Organic Coconut Oil, Candelilla Wax, Organic Arrowroot, Magnesium Salt, Patchouli and Neroli Essential Oils.
Net Wt. 2.2Oz (65ml)